Танк-охладитель молока Wedholms закрытые DF95L
The DF95L is available in several different sizes and is our largest model of milk cooling tank.
Цена: от 3159037 руб.
Купить
---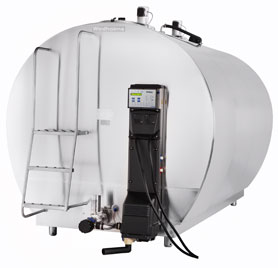 Just like the DF95 and DF953, it can be adapted to suit the desired location of the connections and equipment. For robot milking, the DF95L can be supplied with either an integrated cooling unit or a separate one which may be placed wherever convenient. For conventional milking, only the version with a separate cooling unit is available.
Our milk cooling tanks are constructed completely of stainless steel and recyclable material. They rest on longitudinal supports with legs, making them easy to transport, and our flexible modular system allows both the legs and stirrer motor to be dismantled to facilitate installation.
The cooling system has two thermostats, and the large evaporators inside the tank produce an efficient cooling area that reduces your running costs.

The WinMasterMobileCom control system can be adjusted for a range of different languages to assure optimal control of the regulation, monitoring, cooling and cleaning systems. It also records the stirring process.

The manhole lid can be opened and closed with one hand. The cleaning system has eight phases, which gives it the flexibility to assure efficient cleaning. Together with our spray head, which has a spread of 360°, excellent cleaning is achieved.